Home flipping in the first quarter of this year jumped to the highest level since 2006, as investors rushed to snatch up properties to resell for a profit. Home flipping comprised 7.5% of all home sales during the first quarter, up from 7.3% a year prior, ATTOM Data Solutions reports in its 2020 Home Flipping Report. It defines a house flip as a purchase and sale within 12 months.
The gross profit on a typical property flipped nationwide (the difference between the median sales price and the median paid by investors) rose in the first quarter to $62,300. However, due to rising home prices, that profit for investors equated to about 36.7% return on investment compared to the original purchase price, which is down from 40.9% a year earlier. The profit margin for flipping properties is at the lowest level for home flipping since the third quarter of 2011, ATTOM Data Solutions reports.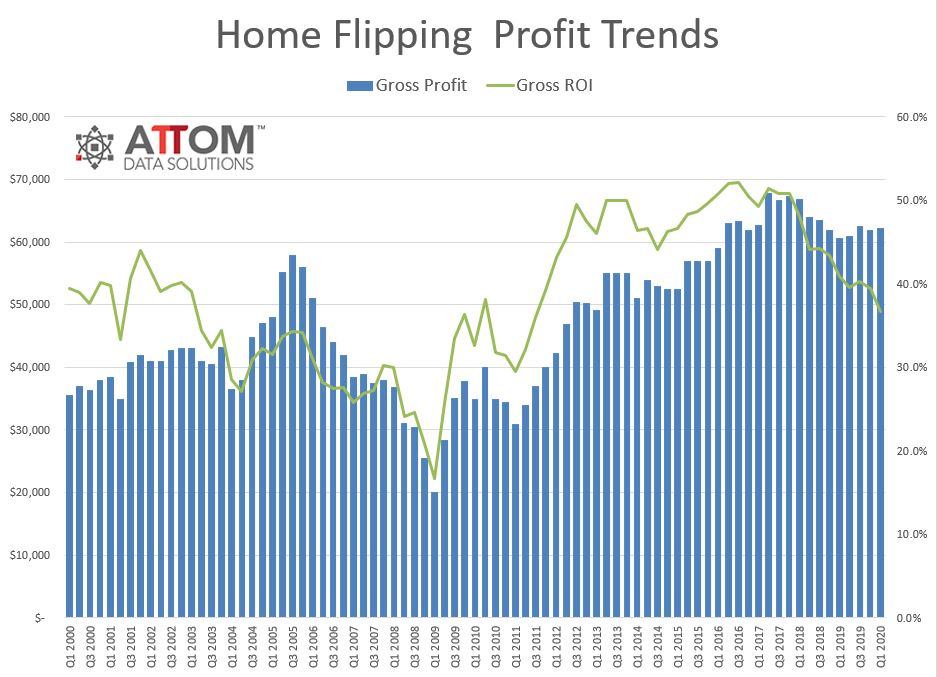 "Home flipping has gradually taken up a larger portion of the housing market over the last couple of years," says Todd Teta, chief product officer at ATTOM Data Solutions. "But profits are down and are lower than they've been since the dark days following the Great Recession, which is a sign that investors aren't keeping up with price increases in the broader market. Enter now the coronavirus pandemic and the prospects for home flipping are notably uncertain, at least in the short term. We should know a lot more in a few months about whether home prices drop and investors get hard hit, or whether they can increase their profit margins."
During the first quarter (which does not reflect the full extent of the pandemic on the sector), these housing markets saw the largest increases in home flipping rates: Boston (up 80.2%); Springfield, Mass. (up 76%); Olympia, Wash. (up 73%); York, Pa. (up 71.4%); and Minneapolis (up 69.3%).
More investors are using cash to finance their house flips, which could provide a safety net from defaults. In the first quarter, 59.5% of homes flipped were purchased with all-cash.
Investors also took an average of 174 days to complete a flip, slightly down from 180 days a year prior.